Careers in Healthcare That Have Job Stability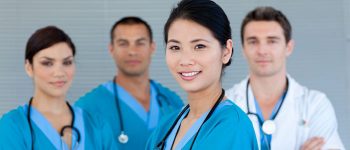 With healthcare reform leading to a higher number of people receiving health insurance coverage, the demand for certain healthcare jobs is rising. Several careers in healthcare are showing an expected growth rate over the next several years that offers stability. These jobs range from those that require several years of schooling and extensive training to those that only require a couple years of training. The following are some of the most stable healthcare careers.
Nurse Practitioner
Nurse practitioners, also known as advanced practice registered nurses, perform a number of tasks, including prescribing medicine, performing physical exams, analyzing lab results and coming up with treatment plans. They can specialize in working with certain populations, such as the elderly or children, or providing care in one area, such as cardiology or orthopedics.
Becoming a nurse practitioner involves getting a bachelor's degree in nursing followed by a graduate degree. The pay ranges from $64,000 to $120,000. The Bureau of Labor Statistics (BLS) estimates that the demand for nurse practitioners will lead to a 33.7 percent increase in available positions by 2022.
Physical Therapist Assistant
Physical therapist assistants work closely with physical therapists to help patients recover flexibility and muscle strength following an injury or illness. Typical tasks they perform include teaching patients how to perform exercises properly, keeping track of patients' progress and keeping the therapy space in order.
Physical therapist assistants must complete an accredited two-year associate's degree program and pass a licensure exam in their state. Salaries range from $42,000 to $62,000. According to BLS, the growth rate for physical therapist assistant positions will average 41 percent by 2022.
Dietitian and Nutritionist
Dietitians and nutritionists both help people learn how to eat healthier. They can specialize in working with patients who have special dietary needs, such as those with diabetes, managing meal programs in hospitals and cafeterias or educating the public on making more nutritious food choices.
Becoming a dietitian or nutritionist typically involves earning a bachelor's degree in nutrition, dietetics or another related area. Advanced degrees in specialized areas are also available. Salaries range from $44,000 to $67,000. The BLS predicts a growth rate of 21 percent for dietitians and nutritionists by 2022.
Pharmacy Technician
Pharmacy technicians assist pharmacists with dispensing prescription medications. They mix and measure the proper amount of medication needed, then label the container. Pharmacy technicians must keep up with changes that occur in the pharmaceutical field, but they do not usually provide patients with counseling on medication use.
Pharmacy technicians typically need to complete a one- or two-year training program at a community college or vocational school. They can also pursue additional education in pharmacy technology. The pay ranges from $24,000 to $35,000. According to BLS, a 20 percent growth rate by 2022 is expected for pharmacy technicians.
Phlebotomist
Phlebotomists are responsible for drawing blood in precise amounts and properly labeling each sample. They must be comfortable working with needles and providing reassurance to anxious patients as needed. Phlebotomists work in doctor's offices or hospitals.
Becoming a phlebotomist requires one year or less of training at a technical school, community college or vocational school, as well as certification in some states. Salaries range from $25,000 to $35,000. The BLS estimates a 27 percent growth rate for phlebotomists by 2022