Landing Your Career in Technology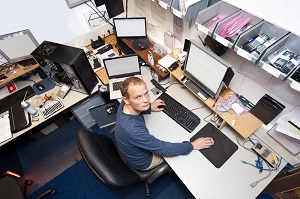 Landing your new career in technology is easier than ever with CCI's information technology courses. We offer several IT certifications that can help jumpstart your IT journey.
"A key component is our unstoppable job growth," the report said. From 2010-15, the number of tech jobs in the area grew 38 percent, outpacing job growth in non-tech occupations (24 percent.) And those jobs are paying the big bucks."
Place to be for technology
CBRE Senior Vice President Clay Vaughn said, "More companies are starting to realize what a great place Dallas is to grow their technology businesses. The talent, real estate and jobs are all here and there is no sign of it slowing down in the near term".
Technology salaries are on the rise as well. Information Week reports, "Starting salaries for US-based IT professionals are expected to rise an average of 3.8% next year compared with 2016, according to the Robert Half Technology 2017 salary guide."
Additionally, there is a shortage of IT talent in the market, making opportunities in technology are widely available. If you're in the DFW area and have considered entering the IT Technology industry or advancing your current IT career, there may be no better time to act. From where you're standing today, there are avenues available to you to help get your career going.
Your personal path to technology
If you want to learn the essentials to begin a career in IT, getting CompTIA A+ or Linux Essentials certification would serve as a good launching pad for you. This globally-recognized and accredited certification would make you eligible for IT positions such as network technician, network installer or help desk technician.
If you are already employed in technology and want to advance your career, this certification validates your skills, proves your commitment to your career and your company and will make it that much easier to land the job you want.
Perhaps you already have an established career, say in marketing, but you think that technology is something you would like to do on a more frequent basis or even instead of what you do now. Today, technology infiltrates everything, so even though the thought of changing careers might sound scary, you may already know enough to make a move.
In marketing, for example, you probably already interact with a web developer, a help desk technician, the IT administrator who created your marketing database and a slew of vendors who use different technologies for services you may purchase. Your familiarity with IT devices, processes and tech terms has already made you tech aware enough to lean in that direction.
See if you can shadow a network technician to see what he or she does or get involved in a company networking team project where you can listen and learn. Although you do not have extensive knowledge of technology, you do possess other valuable skills. Sometimes you don't need to know everything, you just need to ask good questions.
There could be on-the-job training opportunities where you work that may allow you to transition into IT networking, and try to work in some online classes to complement your new career goal.
Be resume ready
Make certain your tech resume is ready when you are. Your new resume should reflect the education you've obtained and the skills you have that are relevant to the IT job you're going for. Here are our top tips for applying for a tech position.
Don't use the same resume for every job you apply for. The skills required in one position might be completely irrelevant in the next.
Try to gear every aspect of your resume towards the skills required for a technology position.
Keep your resume easy to read and positive, instead of highlighting your weaknesses adapt the skills you do possess to the position you are applying for.
Don't bother having an objective on your resume: your objective is to get the job.
Lastly, it should go without saying that spelling and/or grammatical errors are an absolute no regardless of the position you're applying for.
Be positive, be brave and be open and flexible to learning new things to land that technology job you want.