Online/Hybrid Job Training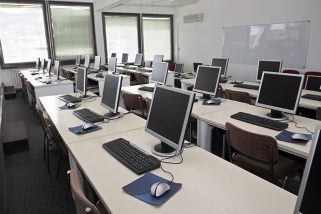 Are You Curious About How Online/Hybrid Job Training Classes Work?
CCI Training Centeris an established technical School in the Dallas Fort Worth providing adult students with accelerated 7-month programs in the fields of Computer and IT career training, Business Accounting career training, and Medical Career training. There are many qualities that distinguish CCI Training Center from other area career training centers. One of the most important is CCI's willingness to accommodate students' demanding time and schedules.
CCI recognizes that the demands of today's fast-paced world can be overwhelming. These demands can also make it difficult for someone to fit a quality education into their schedule. Therefore, CCI's unique hybrid classes are designed to help students prepare for the workforce quickly and conveniently. The Flex-Schedule and Online training programs are designed to prepare the candidates with quality education on and off campus in the Dallas and Fort Worth metro area. The school also provides assistance to students needing financial aid including Pell grants, student loans, and scholarships. This is available to those who qualify.
The hybrid courses combine the effectiveness of traditional classroom time with the latest telecommunication technology delivering quality education to busy students. Typically, students attend classes two days a week at either the Arlington campus at 770 East Road 6 Flags or at the Dallas campus at 9850 North Central Expressway. The remaining coursework is offered online where computer based learning activities will complement the on-campus work. Collectively, the blended learning format provides students with the job skills of their choosing.
CCI's web based classes compliment the coursework completed on-campus. Time spent doing lab work and taking exams is accomplished on location where students can interface with their instructors and other students in person. The work they do from their online extends and expounds upon what they learn in the classroom. This results in the solid foundation toward a rewarding career.
These hybrid courses provide new opportunities for those students who would otherwise miss out on the chance to change their future by completing a performance based accelerated hybrid career education program. Online assignments can be completed from home, from the office or from a favorite coffee shop, freeing the student to fit the work in when it is most convenient to them.
The structure of each hybrid class varies from one course to another. This highlights the flexibility that is built into this unique hybrid model. CCI Career Training Center's instructors' typically determine which educational activities are better introduced in the classroom and which will be better for students to accomplish from their chosen online venues. To design the program the instructors base their decisions upon the content, course objectives and resources that are available for each individual course.
The Dallas CCI Career Training Center offers career training to students from Dallas, Irving, Richardson, Garland, Carrollton, Rowlett, Plano, Mesquite, Lewisville and other nearby areas. The Fort Worth CCI Training Center is convenient to students living in and around Arlington, Irving, Grand Prairie, Desoto, Mansfield, Lancaster, Irving, Richland Hills, Bedford, Duncanville and other areas nearby.