Tips for Conquering the Phone Interview
Preparing for a Phone Interview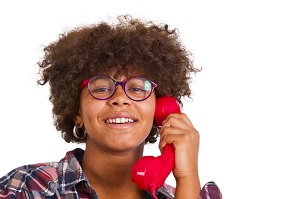 Usually when one gets ready for a job interview, an enthusiastic look in your eye and a polished professional look are first on your interview preparedness check list. A phone interview, however, requires a different sort of polish. You must relay your professionalism and enthusiasm, as well as all your other qualities, to a person or persons you cannot see, through the phone. It requires you to be proactive in preparing for this interview as much as an in-person interview, perhaps even more so. Trying to make a great first impression without a prospective employer seeing your smiling face or experiencing personal interaction with you can be a challenge. Fear not, preparation is the key.
Time Check
When contacted about a phone interview, ask your prospective employer how much time you should set aside. Some phone interviews are quick fact-finding calls, others more in depth. You should also ask who will be conducting the interview; the person setting the appointment is not always the person you will be speaking with and you will want to address the interviewer(s) by name during the call.
Quiet Please
Before your phone interview, be sure you have a quiet place where you will have no interruptions. You do not want your interview disrupted by your dog sounding the alarm of the squirrel on the patio or background noise from the television. You need to give your phone interview your undivided attention. Make sure the phone you use has good reception and if using a cell phone, that it is properly charged. You don't want to have your phone go dead mid-sentence.
Research
Be sure to do your research on the company for which you are interviewing. Go to their website and learn what they do. As you peruse their site, take notes. Know how long they've been in business. Take time to watch any videos they have and read their blog posts. Write down points about their business that your find most interesting so you can talk about them. You want the interviewer to know you have taken the time to understand what their business is really about.
Questions?
Your interviewer will of course ask questions. Familiarize yourself with some common interview questions and be prepared to answer them. Use reliable, online references to help you answer these types of questions, such as CareerBuilder's, 5 Common Interview Questions and How To Answer Them.
You will likely be asked if you have any questions в"Ђ say yes. Write down questions that come to mind as you're researching the company. You may see that the company makes an interesting product; during your interview you may want to ask in what application the product is used, or how it was first developed, or in what industries it is sold. Ask about the companies' competitors and what challenges they present. Asking meaningful questions shows that you are really interested in the company. Do not ask questions like where your parking spot is or if there is a cafeteria on site.
You should also be prepared to ask questions about the position you're applying for; is it a new position or a replacement? To whom does the position report? Do not ask about benefits at this time as you need to focus on getting the interviewer to take you seriously as a candidate. The details about benefits can be discussed when you become a final candidate. Try to avoid answering any questions about salary if you can. You may want to tell the interviewer that you are more concerned with being a good fit for the position than salary at this time.
Enhance Your Speak
Keep in mind that your interviewer(s) do not know you and have never seen you. Smile while you're speaking. As any voiceover professional will tell you, smiling while speaking will really enhance the tone of your voice. Try to let your enthusiasm and excitement come through. Above all, be respectful, professional and be yourself в"Ђ because you're fabulous!
Looking for a New Career?
CCI Training Center is a career training school that employs a full time job placement team. Students and Graduates receive assistance with Internships, Externships, Job Fairs, Networking, Resume Preparation, Interviewing, Career Assessment and much more!
For more information on CCI's Medical & Healthcare, Pharmacy Tech or Computer & Network Administration programs call or email us today.
Dallas Campus – 214-763-9889
Arlington Campus – 817-592-9399