Spotlight on Desktop Support Technicians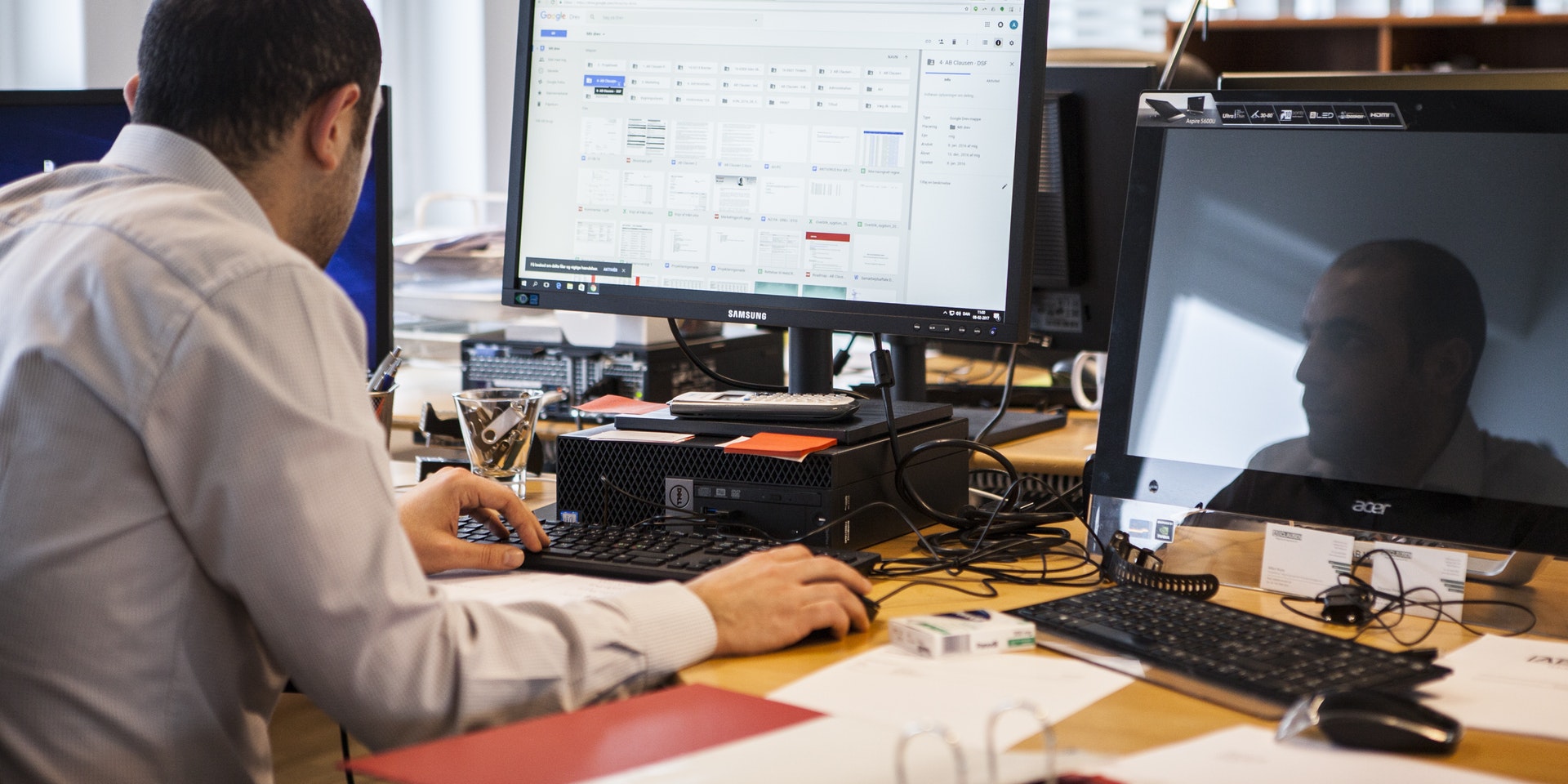 Desktop Support Technicians are problem-solvers who enjoy working with computers and helping others. Otherwise known as Computer User Support Technicians, they are the first port of call for people experiencing problems with their computer, software, network or the internet. Some positions deal directly with the public, while others are responsible for the IT needs of a particular company and its employees.
In Texas, demand for Desktop Support Specialists is expected to increase by 25% over the next seven years. As we reported in April, demand for IT skills in Dallas Fort Worth has driven salaries to over 10% higher than the national average. This means if you are looking for a new career with job security in Texas, the IT industry is one of the first places you should look.
It is a false narrative that in order to have a career in the IT industry you need a college degree. Many people who have had other work experience already have some of the skills needed to work in IT as working with computers has become so prevalent in society.
If you work in the service industry, you likely have to work with computers. If you work in hospitality or retail or administration, you definitely work with computers. What you don't need is a four-year university degree. Obtaining a certification after attending a career college course will get you into an IT position faster with all the benefits and pay you are looking for, without the debt and time lost at a university.
If you want to become a Computer Support Specialist, you need to be willing to work with people, as helping others solve their problems will be your primary responsibility. To do this, you will need to communicate effectively via the internet, the phone, or in person.
Along with IT certifications, there are job skills you will need that are just as important. You also should have the patience of a saint as you will often be dealing with people who have little to no IT knowledge. You really will have to say "Have you turned it off and then on again?" multiple times a day.
For this reason, many women looking to change careers find they already have some of these important attributes already. It takes patience, understanding, and kindness to teach a toddler to use a spoon. It takes the same characteristics to walk a customer through the steps to restore their computer to a previous update when there was no problem.
Job Outlook
Along with the 25% increase in jobs available, according toВ CareerOneSpot, there are expected to be over 2000 Computer User Support job openings every year. Due to the rate of innovation of IT infrastructure, software and smart devices, organizations will require more computer support to stay abreast of technology changes. TheВ Bureau of Labor StatisticsВ also says that increased demand from the healthcare industry for electronic records management andВ data securityВ will also generate more employment for people in these roles.
According toВ BLS Occupational Employment Statistics, in the U.S. there were 602,840 Computer User Support Specialists in 2016. This number is expected to increase by 13% to 661,000 by 2024.
In Texas, in 2016 there were 57,340 people employed as Computer User Support Specialists and the number of jobs available is expected to grow by 25% to 70,680 by 2024. For every 1000 people employed, 4.88 have these roles. This rate is much higher in the Dallas area, with 7.19 people employed in these positions per 1000 jobs.
Nationally, Dallas Fort Worth has the fourth highest employment of these positions (17,470) while North Texas has the fifth highest nonmetropolitan employer of Computer User Support Specialists. Wages in Dallas are also strong at 11% above the national average according toВ Payscale Human Capital.
Computer Support Technician positions are a great entry level position if you are trying to break into the IT industry. As the statistics above show, there is a great deal of job security in these positions, but there is also adequate room for climbing the corporate ladder.
The certifications you obtain to become a computer support technician will combine with experience you gain and more certification training to higher paying IT positions as your career progresses.
Technical Skills
Most people in Desktop and Computer User Support have been to a technical college and, usually, the positions require little to no work experience or on-the-job training. But if you want to take on these roles you need to know your stuff: you'll be expected to have a swathe of certifications up your sleeve and a willingness to keep your technical knowledge up-to-date.
Computer Networks: To help computer users in an organizational environment, you have to understand how networks are installed and managed computer networks, how processes run, and likely problems that may occur.
Hardware & Software: Not only will you need to know your way around a computer, you have to be able to set up and train others as well. This is one of the places your patience and ability to communicate are vitally important.
Security: Support Specialists have to understand IT security to be able to educate others on safe online behavior, the importance of maintaining software updates, and other security protocols. Security has become so important that being able to clearly communicate it to clients and coworkers is a non-negotiable job skill.
Certifications: You should ensure you a selection of well-respected certifications up your sleeve to show that you are dedicated and have a wide-ranging knowledge, including in Windows, Linux, Cisco and cloud-based systems. A good place to start is certifications in CompTIA A+, Network+ and Cloud Essentials; Microsoft Security, Networking and Windows Servers; Cisco CCENT and CCNA; and, Linux Essentials.
Active Listening: You will need to be able toВ listen carefullyВ to clients, asking appropriate and guiding questions to determine the problem. Many times you will be helping clients and coworkers with their IT issues over the phone, so you need to be able to distinguish what they are talking about even when they aren't telling you in the terms you are used to using. You also need to be able to help them solve their problem in terms they will understand.
Communication: In these roles, you'll talk to people from varying backgrounds, many of whom will have limited knowledge about information technology training. You have to be able to explain complex processes simply and guide computer users verbally through step-by-step instruction.
Problem Solving:В  If you take on this career, all day, every day, you will be solving other people's problems. You'll have to think quickly and critically to determine what is wrong and the most appropriate solution.
Job Opportunities
Job opportunities for Desktop and Computer User Support Specialists are plentiful. At the time of writing,В GlassdoorВ had over 2000 jobs advertised in the Dallas area over the past two weeks for jobs requiring desktop support skills,В IndeedВ had 100 positions advertised whileВ Career BuilderВ had 40 positions available in DFW. When searching for these roles, look out for the following job titles, or variations thereof:
Desktop Support Technician
Information Technology Specialist
Computer Technician
Computer Support Specialist
Computer User Support Specialists
Network Technician
Technical Support Specialist
PC Support Technician Help Desk Technicians
While IT companies and education facilities tend to have the highest level of employment in these occupations, many large businesses and hospitals employ in-house IT support officers. The top paying industries for Computer User Support Technicians are transportation and banking.
Want to pursue a new career as a Desktop Support Technician? In just seven months you can be job-ready with CCI Training Center'sВ Computer & Network AdministratorВ training. Our instructors have all worked, and many still are working, in the IT industry. They have real life experience to teach you all the ins and outs of what you need to know to start your Desktop Support Technician career.
Many of our students start to build their professional network, right here at CCI Training Center as well. Often the best way to apply for and obtain a position in any industry is when you know someone in the company. CCI Training Center has students at all levels of their IT career, as many of our students tend to come back to further their certifications.
CCI Training Center knows that working adults cannot quit their current job to train for a new one. That is why we offer flexible, year round schedules that often only have you coming to the training center one to two days per week.
Our year round schedule means you will not have to wait long for the next class to start for the certification you desire. You will spend months, not years at CCI Training Center educating yourself for your certification exam, and leave with the confidence you need to go and find your entry level position in the IT industry.
Call our offices orВ fill out a form todayВ to get started on your journey to a better, more satisfying career in IT.
Comments are closed.