Are You Qualified for a Work At Home Career?
Our checklist can help determine if a home-based career is right for you.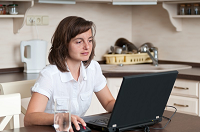 The number of employees working from home is skyrocketing. According to a CNN report, the number of Americans working at home increased a whopping 41 percent in a single decade, equating to nearly 4 million Americans with home-based careers.
It's no wonder. Companies and employees alike are catching on to the many benefits of telecommuting, including:
Increased employee productivity.
Decreased expense for employee and company.
Greater employee loyalty.
Decreased absenteeism.
While many people enjoying work-at-home careers are women, of those 4 million Americans working out of their home offices 53 percent are men.
But wait, there's more. Employees aren't the only ones working from home. Forbes reports that an estimated 1 in 3 Americans are freelancers, and the freelance economy is growing to the point that by the year 2020 up to 50 percent of the full-time American workforce could be freelancers.
Are you interested in a work at home career? We've developed a 6 point checklist to help determine if you have the skills and qualifications to succeed in a home-based career.
1. Do you have the skills?
While companies are increasingly willing to let seasoned employees telecommute, if you are new to the company or only working part-time you might have to make a case for taking your job home.
When it comes to a work-at-home career, success has everything to do with skills and experience. Employers are looking for a combination of training, certifications and on-the-job experience when deciding whether or not telecommuting is an option, and freelancers stand a better chance of landing paying clients if they have the training and certifications to back up their expertise.
Not sure you have the necessary skills and training? Courses and career programs at CCI Training Center can help you build a profitable work-from-home career. With training and certification through one of our technical, medical or accounting programs, you can work from home in areas such as:g
Tax Preparation
IT Support
Network Administration
PC Support & Help Desk
Medical Transcription
Health & Wellness Coaching
Medical Billing & Coding
With these and other valuable skills acquired through a combination of training and experience, you might have what it takes to enjoy a successful work-from-home career.
2. Do you have self-discipline?
Working from home requires a level of discipline and determination that you don't often find in a communal workplace. Unless your employer requires that you be available during specific hours, you will have to determine your work schedule and stick to it.
Employees and freelancers alike will have to keep track of deadlines, avoid distractions, and carve the necessary working hours out of their day—no matter what.
3. Do you have space?
Whether it's a laptop on your dining table or a full-fledged home office to house the desktop, surfaces, printer and other tools you'll need to get the job done, you need a space to devote to work.
The optimal setup is a dedicated home office. The bare minimum is a quiet environment free of distractions. The worst case scenario is a local cafe or library where you can get the job done.
4. Do you have the tools?
Companies often provide laptops and even mobile devices for workers who telecommute, but many times it will be up to you to provide the tools necessary to be effective. Jot down a list of tools you might need. If you don't have them, move on the next question.
5. Do you have the budget?
We've established that a home-based career requires the space and tools to do the job. If you are an employee and your company doesn't provide them, do you have the budget to acquire them?
If you are a freelancer, you'll need the same space and tools, but there's one more thing you'll need to buy—time. While a fortunate few can start making money right away, realistically it can take 3-6 months to build a reliable income. In the meantime, you will need another steady source of income or enough savings to last 6 months.
6. Do you have support?
Finally, do you have the support of your friends and family? Especially if you married, but even if you're flying solo, having a support system is as crucial to success in a home-based business as it is in any workplace.
Working from home can be both challenging and incredibly rewarding. If you are interested in pursuing a home-based career, contact CCI Training today to find out how we can help put you on the path to success.