Getting Financial Assistance for Career Training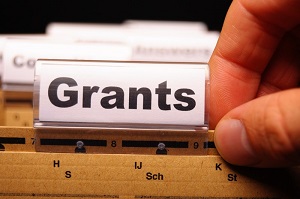 You've spent time daydreaming about changing your life, starting with changing your career. You know what you want to do and envision yourself with a new job, earning more money and doing what you're truly passionate about. But once you wake from your daydream, you shake off the excitement you felt and tell yourself that you simply can't afford to go to school. Before you close the door on a brighter future, there are some financial aid options that could help you get the training you need to launch you into that new career.
The first place to start is the U.S. Department of Education's Federal Student Aid Office. This website gives in-depth details about the many financial aid options available and the criteria necessary for each. There are many different types of financial aid available including, loans, grants and scholarships. Some examples are listed below.
Note: Since not all financial aid programs are available at all schools, it is very important that you contact the financial aid office of each school you are interested in attending to see what programs they offer.
Federal Pell Grants: These grants are usually awarded only to undergraduate students who have not earned a bachelor's or a professional degree.
FSEOG Grants: These grants are administered by the financial aid office at each school. This grant is for undergraduate students with exceptional financial need and do not need to be repaid. Participating schools are only allowed a certain amount of funds each year from the U.S. Department of Education's Office of Federal Student Aid. Once the funds are depleted for the year, no more awards for the year will be available. This system works differently from the Federal Pell Grant Program which provides funds to every eligible student.
Benefits for Veterans and their families: Title IV provides Iraq and Afghanistan Service Grants, as well as aid for military families. Like other federal grants, Iraq and Afghanistan Service Grants provide money to college or career school students to help pay their education expenses. However, Iraq and Afghanistan Service Grants have special eligibility criteria. More information regarding financial aid for Veterans can be found at the U.S. Department of Veteran's Affairs.
Post-9/11 GI Bill: For those service members who have served active duty for 90 or more days since September 10, 2001, the Post-9/11 GI Bill can pay full tuition and fees at school, provide a monthly housing allowance while attending school, and provide up to $1,000 a year to use for books and supplies. Eligibility information for the GI Bill can be found on the U.S. Department of Veteran Affairs website.
TEACH Grants: The TEACH Grant Program provides grants of up to $4,000 a year to students who are completing or plan to complete course work needed to begin a career in teaching.
Work Study: Encourages community service by offering part time, work related employment while enrolled in school.
Workforce Innovation and Opportunity Act (WIOA): The purpose of this Act is to assist individuals in developing workforce opportunities, accessing training, and managing their career choices through access to information and career oriented services. The WIA also helps identify specific job preparation needs and assists with securing training to fill skill gaps which may be a barrier to career success. Funds are typically used to cover the cost of tuition and books. The amount of financial aid for tuition and books varies depending on the length of the training program, up to a maximum of $9000 for an approved two-year course of study.
Loans: Subsidized and unsubsidized loans are valuable to eligible students to help cover the cost of higher education at a four-year college or university, community college, or trade, career, or technical school. Direct subsidized loans are provided only to individuals who demonstrate financial need and the Department of Education pays the interest on the loan.
Perkins Loans: Low-interest federal student loans for undergraduate and graduate students with exceptional financial need. Schools generally serve as the lender and the interest rate on the loan is set at just 3%.
Contact CCI Training
Seeking financial aid can seem overwhelming—but don't let that stop you from fulfilling your dream. The financial aid specialists at CCI Training Center are ready to help students reach their educational goals. To find the right assistance to meet your needs, contact the financial aid office at 214-763-9889 (Dallas, TX) or 817-592-9399 (Arlington, TX) or complete our contact form.